Bruschetta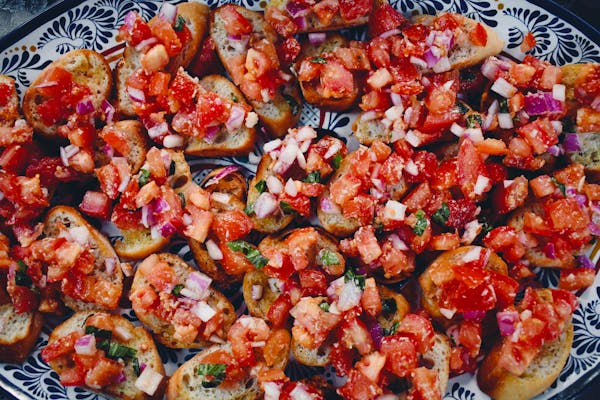 Bruschetta is one of my favorite things to serve guests. I pick up a fresh baguette every sunday at the farmers market, slice it up, toss it in evo, s&p, and grill it. Then, with hungry people standing all around me, I pile on this bruschetta. It's always a crowd pleaser and, in my house, it's a food that brings people together (standing around the platter).
CHOP UP some Jersey tomatoes, making sure to drain off the extra juices.
CHOP UP THE ONIONS and basil, it's up to you what size you want the onions to be but I make them pretty small.
MIX IT ALL UP and put the tomatoes, onions, and basil into a bowl. Add the olive oil, parmesan cheese, garlic, and s&p. Mix it gently.
Pile the bruschetta onto the toasted baguette and watch it vanish when placed in front of your guests.
3 Chopped Tomatoes
Drizzle of Olive Oil
1/2 of a Chopped Red Onion
1 Clove of Minced Garlic
2 Tablespoons of Chopped Basil
2 Tablespoons of Parmesan Cheese
Season with Salt & Pepper
Enjoy!
By Eleanor Davis